Broken Garage Door Cables
Garage Door Cable Replacement in Charleston
All garage doors rely on heavy-duty springs to operate. These springs – both torsion springs and extension springs – rely on cables to help move your garage door smoothly.
On extension spring systems there are two cables, one on each side of your door, that distribute tension to keep your door balanced. If one cable breaks, the other will soon follow.
Broken cables impact your entire garage door system. A broken cable means the weight is unevenly distributed, which puts strain on your springs, tracks, rollers, and other components.
Are Your Garage Door Cables Broken?
Most homeowners notice a problem when their garage door cables snap or come off their drums. Aside from visually seeing a broken cable, you may notice your door is louder, off-balance, and has difficulty opening.
Not sure your cables are the problem? No worries – we always perform a full 25-point inspection to pinpoint the issue before servicing your door.
Longer-Lasting Cables
Cables are used to hold spring tensions that balance the weight of a garage door, which in turn makes it possible to lift the garage door manually or via a garage door opener with ease.
Precision Garage Door stocks quality cables and our technicians are trained to evaluate and fix your broken garage door cables.
We Use
More flexible and quieter stainless steel aircraft grade cables with 19 wires per strand, which last longer than standard cables.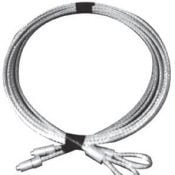 They Use
Other companies use standard cables that only utilize 7 wires per strand, and are less flexible and more noisy.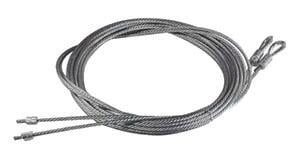 Professional Cable Replacement
When you call Precision Garage Door, you can count on us for garage door cable replacement in three easy steps:
Replacing Both Cables
Most garage doors are installed with two cables at the same time. If one of your garage door's cables breaks, it's likely that the other is nearing the end of its lifespan as well.
After evaluating your garage door, if it is determined that a broken cable is the problem, our technicians will usually recommend replacing both cables.
Using the Right cables
Garage doors come in all styles, sizes, and weights, and Precision Garage Door's qualified technicians are trained to install the correct cables for your individual door.
After installation, our technicians will check to ensure the correct cables have been used by performing a balance test.
Safety Inspection
Precision Garage Door understands that your family's safety is your top priority.
After performing a garage door cable replacement, our technicians will provide a free safety inspection to ensure all the hardware and moving parts of your door are in proper working order.
CALL US TODAY
Our phones are on 24 hours a day, 7 days a week ready to help you with whatever you need. We're happy to schedule an appointment at a time that works best for you, and most calls can be set up for same day service. We're ready when you are. Give us a call today!