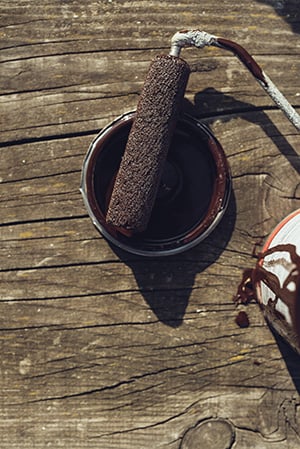 So you are getting tired of your aluminum or steel garage door and want a new look but you don't want to spend thousands of dollars to get a brand new wood door. Well, we have a solution for you. Did you know that you can actually stain or paint your garage door to make it look like wood? If you want to take on this DIY project, then keep on reading to see how to stain your metal door to look like wood without having to buy one!
Start with properly preparing for the project, which involves buying the stain or the paint you will need, the paint brushes or rollers, the trays, tape for creating clean edges, and anything else you might need to prevent paint from getting on other surfaces or the concrete. We also recommend getting some rags if you don't already have some. Whether or not you will use stain or paint depends on the look you are going for, paint is thicker and provides richer color but will need a bottom and top coat of different colors to mimic wood, whereas stain requires more coats and gives a different end result. We recommend researching photos of both results to determine which look you like best and want to create.
Before you get into painting or staining metal doors, you have to clean the door properly. Some recommend borrowing or renting a power washer to really make sure there is nothing on the door that shouldn't be before you start your project. But you could easily do a good job of cleaning with hot water and soap and making sure to be thorough. The cleaner your garage door, the better the paint or stain will stick and last. Once you are done cleaning, make sure to give it plenty of time to fully dry and remove any decorative pieces of your door like window inserts and hardware or tape off the edges to keep paint off.
If your garage door is older and has flaking or chipped paint, we would recommend sanding your door before you start any painting. You want the surface of the door to be as smooth as possible to ensure a clean and durable end result. If your door has never been painted or is brand new, then start with a primer before painting, particularly one that is designed for outdoor use and tinted primer is a brown color will prevent you needing multiple coats to achieve the color you want.
Now onto the actual job of adding the color. For staining metal doors, you can buy a gel stain that comes in different colors of wood for different preferences, like mahogany or walnut. Use a foam brush and start working on one section at a time, working in the direction of the pattern in your door. Gel stain works quickly so it might be best to complete it during a time when the garage door is in the shade. You will most likely need to do more than one coat, so let the door dry after the first coat and come back the next day to see how much more color it needs.
For painting, the best DIY projects used two different colors that will combine nicely to create a faux wood style, one being a dark chocolate brown and the other, some form of orange or caramel color. Which of the colors you choose to use as the base depends on how dark or light you want to the door. If you want a darker wood look, then use the brown as the base and for a lighter wood, use the orange or caramel color as a base. Begin by painting the entire door with the base color and give it plenty of time to dry. With the top coat, you'll need to thin it out yourself or with a glaze since you'll be rubbing the second color into the base color instead of painting it on. You can buy a glaze at a store or some people add water to paint to create the thinner consistency themselves. Use a brush to add paint to a small section of the door then take your rag and begin wiping away and spreading out the paint, so that some of it sinks into the texture of the door but not so much that it covers up the base color, to create a wood grain effect. Use as little or as much of the second color as you'd like, based on your preference of style, and continue with the process until you've covered the entire door. Don't rush with this part of the process to avoid dripping and streaking of the thinner paint.
Give the paint plenty of time to dry before touching and for both stain and paint, we recommend adding a sealing top coat that will help the new look of your door last again the sun and rain and time. And when you're done, step back and admire your stylish and brand new door "wood" door…at least, that's what all your neighbors will think.
From Precision Garage Door of Charleston, we hope you have found this information useful and hope you enjoy your new wood-stained garage door. Don't forget to contact us for any and all of your garage door needs!